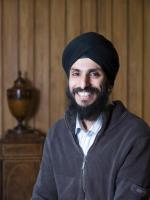 Position: Senior Lecturer in Engineering Statistics (Associate Professor), Affiliated Lecturer of the Statistical Laboratory and a Fellow of Churchill College.
Office Location: BE3-25
Telephone: +44 1223 764 139
Research Interests:
Computational Statistics:
Monte Carlo methods (Particle Filters, Markov Chain Monte Carlo) for computation and its application to Bayesian inference, Maximum Likelihood.
Applications:
Multi-target tracking, Sensor networks for condition monitoring, Gaming (e.g. Cheat Detection in online gaming, inferring player strategies), Signal processing for single molecule fluorescence microscopy.